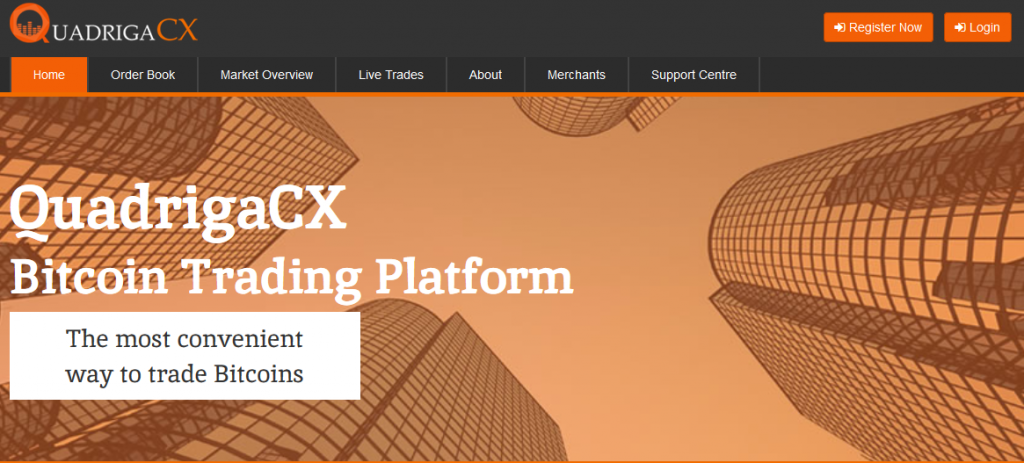 QuadrigaCX is 100% Canadian exchange platform where you can as buy, so sell cryptocurrencies. Though being focused on the market of Canada, the broker is a simple and accessible way for newbies and experts to trade bitcoin as well as altcoin around the world.
This company, registered and located in Vancouver, is ranked among the 35 top exchanges. Here you will get 24 hour trading, low fees and high security. If you want to get more information about the platform, then keep reading the review.
Advantages & Disadvantages
To start trading digital currency, you need to investigate the industry inside and out. Always check the risk of losses, legality and safety aspects to avoid any scams. The features provided differ depending on the platform. Here's the pros and cons of QuadrigaCX to ease your choice:
Advantages
Disadvantages

User-friendly design
Low trading fees
Highly secured
Two-Factor Authentication
Deep liquidity

High fees for deposit/withdrawal
No margin trading
Long withdrawals
QuadrigaCX Exchange Features
The main advantage of the platform is its user-friendly interface and transparency of all data. Diagrams, features, crypto currencies and pairs, news of the industry can be found at the homepage. Feel free to check the "Order Book" to see the best trades. There are tops of buy and sell orders as well as recent trades with all values demonstrated.
Available Currency Pairs
The platform offers a wide variety of currency pairs to exchange. Herewith, you are free to use any option out of the following ones:
XɃT/CAD
XɃT/USD
ETH/CAD
ETH/ XɃT
ŁTC/CAD
ŁTC/ XɃT
BCH/CAD
DCH/ XɃT
BTG/CAD
BTG/XɃT
Feel confused seeing "XBT" in the list? In very deed, it's the same to "BTC" that we used to see as abbreviation for Bitcoin. The "XBT" is a new notation that comes to use from an ISO (International Standards Organization) that keeps a list of currencies.
Since the crypto currency is decentralized and is not associated with any country then it should start with "X" in a similar way to Gold which abbreviation is XAU. So that, just take to XBT as a notion of Bitcoins.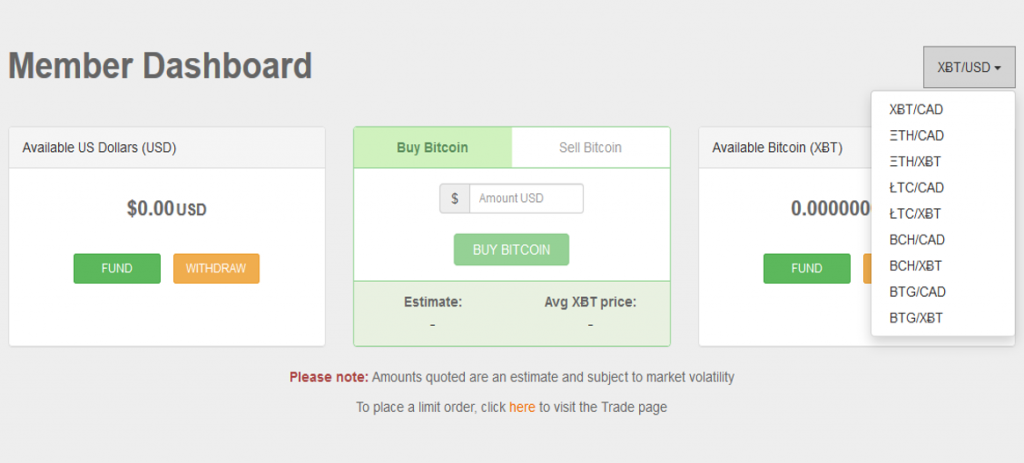 Depositing and Withdrawal Process
If the previous points meet your demands, the next issue to check is funding and withdrawal options. You can deposit and withdraw in 3 steps:
login your account and click on the balance of your coins/money available, the menu will appear
choose "Fund" or "Withdraw", both fiat and crypto are available
pick the needed option and then follow the instruction
Payment Limits and Fees
QuadrigaCX platform offers lots of methods for funding/withdrawal the account. They differ on the option you want to do, and the currency chosen. Moreover, the fees as well as extra charge depend on your choice.
If your order book is BTC/USD, BTC/CAD, LTC/CAD ETH/CAD or BCH/CAD the charge will be 0.5% and 0.2% on the ETH/BTC. It's applied to all completed trades, not opened ones.
For Deposit
Method
Min/Max
1Day Limit
Fee
Time
$50k/$500k CAD
$25k/$500k USD
$500k CAD
$500k USD
1%
0%
5 Working Days
$500/$500k CAD
$500/$250k USD
$500k CAD
$250k USD
0%
1 Working Day
XɃT
0.001XɃT/-
—
0%
4 Confirmations
BCH
0.001BCH/-
—
0%
4 Confirmations
BTG
0.001BTG/-
—
0%
4 Confirmations
ΞTH
0.001ΞTH/-
—
0%
12 Confirmations
ŁTC
0.001ŁTC/-
—
0%
6 Confirmations
For Withdrawal
Method
Min-Max
1Day Limit
Fee
Time
$500/$100k CAD
$100k CAD
2%
3 Working Days
$500/$5k CAD
$10k CAD
2% + $20CAD
3 Working Days
$100/$500k CAD
$500 – $500k USD
$500k CAD
$500k USD
0%
10 Working Days
$500/$500k CAD
$500/$250k USD
$500k CAD
$250k USD
0%
Next Working Day
XɃT
0.001XɃT/-
—
0%
—
BCH
0.001BCH/-
—
0%
—
BTG
0.001BTG/-
—
0%
—
ΞTH
0.001ΞTH/-
—
0%
—
ŁTC
0.001ŁTC/-
—
0%
—
Account Types
To start trading, you are to open your account. Just click on "Register Now" on the official website and fill in the form. There you need to provide such info as email address, first and last name, date of birth, your country.
You'd better figure out a strong password, that is to be no less than 8 characters in length, and a 4-6 digit Transaction PIN to authenticate your future withdrawals. After that, check your inbox for the email with your unique Client ID to login.
There is a choice between 2 types of account to open: personal and business. You can form only one acc at a time. The service allows you to get both kinds, but with different emails provided.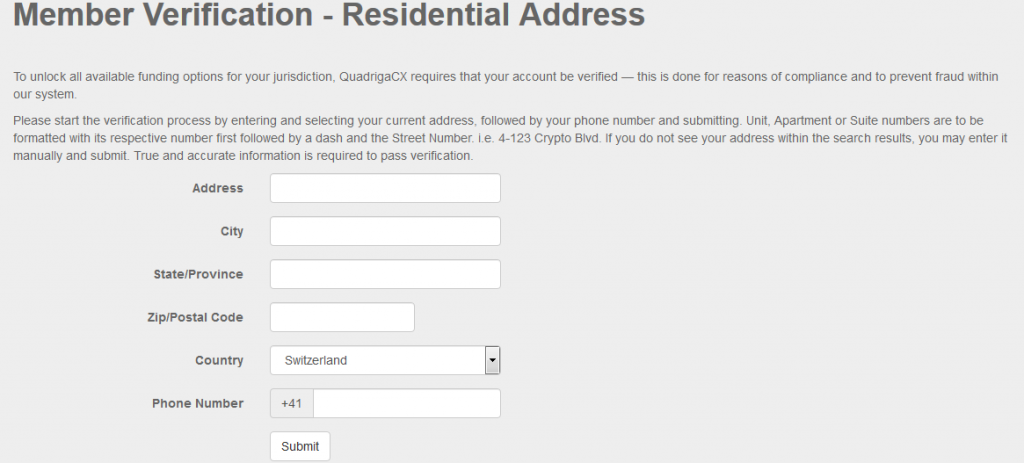 You can also verify your account. It will extend the limits and open additional funding options for you. There are two types of verification:
ID and Address. Here you are to provide copies of your ID and proof of address.
Instant. It's provided in partnership with Equifax. Here you'll be asked multiple choice questions, which are based on info within your credit file.
Choose the first variant to get the maximum Interac Online limits. Complete both verifications and additional access to EFT (Electronic Funds Transfer) funding will be unlocked.
Clients Support & Security
The security is the issue number one when it comes to Bitcoin. SSL encryption, DDoS mitigation, CloudFlare, Cold Storage, two-factor authentication and other features are used at QuadrigaCX to eliminate and prevent cyber attacks as well as protect your private information provided. Thus, all data you give while registration and confirmation of transfers is out of use of the third parties.
If you have any questions about the service, account, options, features and so on, you can find answers in the detailed FAQ section and tickets. The knowledge base of the exchange contains dozens of articles with bit by bit instructions applied.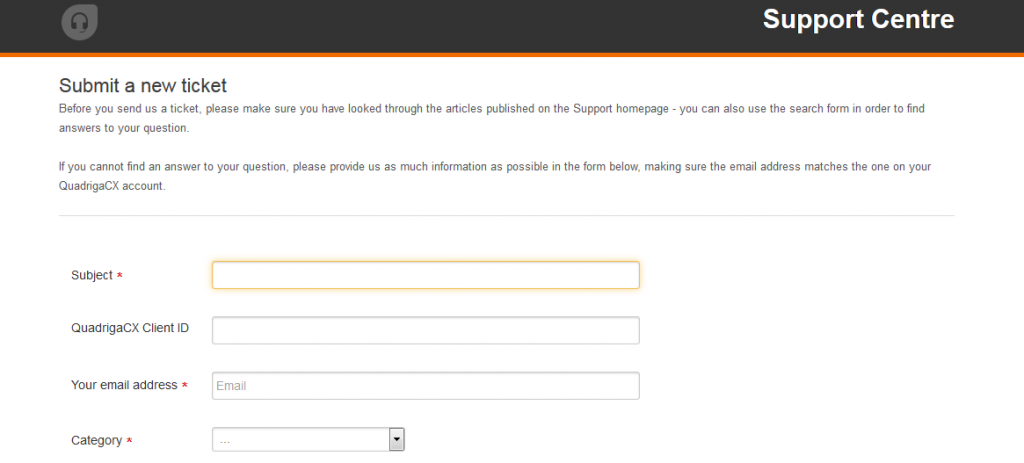 Exchange Referral Program
Here you can earn money not only by buying and selling crypto, but also by referring. QuadrigaCX offers you 10% of all trading fees. Eager to know how it works? Just share the referral link and profit from any user who has signed up via it. The percentage will be instantly credited to your account.
Conclusion
QuadrigaCX is a Canadian exchange that offers you to trade such cryptocurrencies as BTC (XBT), LTC, BCH and ETH. It's famous for its currency pairs, low fees, deep liquidity, relatively cheap deposits and withdrawals, strong security.
Due to the wide range of methods, features and digital currency choice, the company is in the top of Bitcoin exchanges. Thanks to the simple interface, transparent information and possibility to withdraw all funds in the marketplace in 24 hours, the platform is popular among the users around the world and Canada particularly. The platform is really worth your attention nevertheless if you are a newbie or an expert.