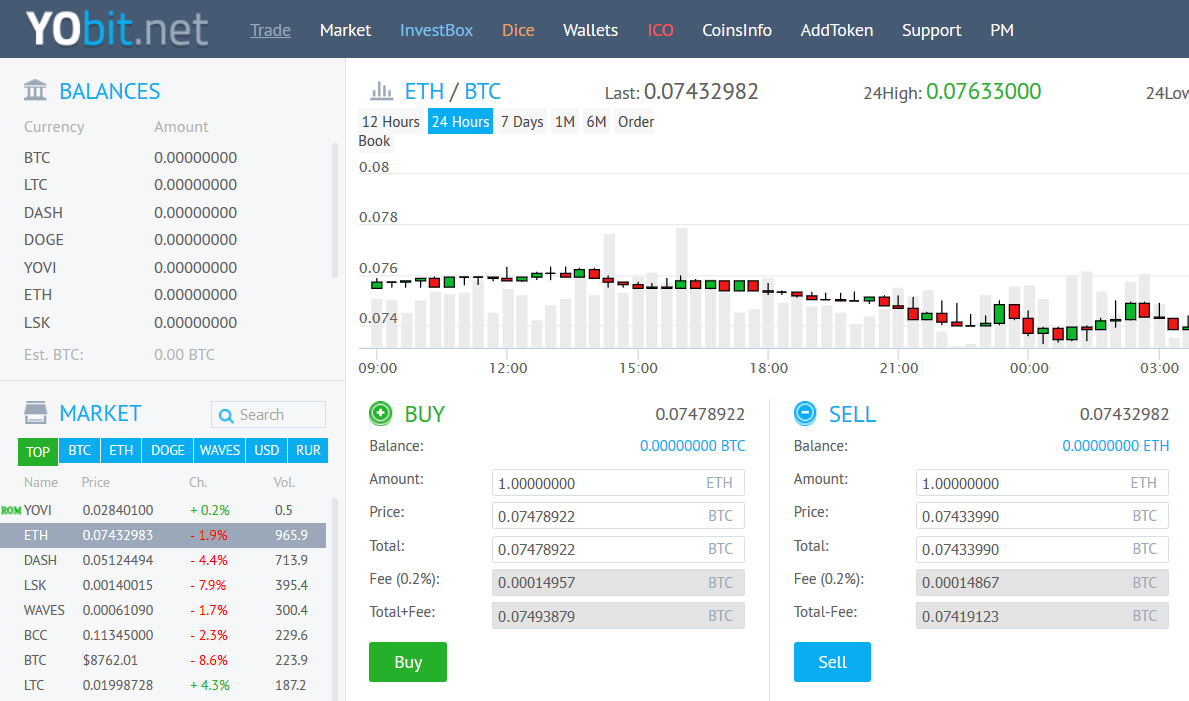 The YoBit cryptocurrency exchange, oriented on English, Chinese and Russian traders, appeared on the scene in 2015. Inside the YoBit which took people by surprise: It has the origin in Russia, but lures with the most cost-effective deposit fee, 2% USD, for transactions in USD thru Perfect Money, OKPAY, Capitalist plus AdvCash; the cheapest withdrawals are for cashouts in RUR (1-3%). It features Free Coins we'll talk later.
Advantages & Disadvantages
Other insiders have shared details about 5% fees on withdrawals in USD currency. That gives a pause for thought, doesn't it? Your bitcoin feed got a major upgrade due to the one and only exchange, but prior venturing upon the purchase on it, YoBit is well worth an overlook of pros and cons.
Advantages
Disadvantages

Slow process
Negative users' feedback
Delays
Negative customer service experience
High fees for cashing money out

The seamless interface
The Yobi codes
The "free coins"
A live chat option
The cheap input fees
The history + balance display in various currencies
And also the two-factor authorization
Trading Interface and Features
And the list is far from over. We'd like to highlight the way the interface is done, it is user-friendly as all icons on history, buy/sell orders, market, support are in front of your eyes, herewith it won't take a newbie long to deal with the YoBit exchange features and options.
Available Markets and Currencies
If you don't end up with using the exchange site, but you can end up doing so after reading through our guidance on buying money. You ask what is the first thing to do? Make a market selection over the BTC, DOGE, ETH, USD, WAVES, RUR ones. Right after that, pick a currency from the range listed upright.
For those, who don't quite know what is next, you review the timetable at different times, varying, as follows: 12 hours, 24 hours, 7 days, and so on. Put in the cause-specific amount in accordance with what you choose, to put/call or to buy/sell, for placing your order.
Payment Methods and Fees
Payment Truth: What fees exist? You'll make a big mistake if let the next paragraph pass your attention. You can become out of money paying high for transactions as here in and out operations with money are charged with the 0.2% fee of a transition sum over and above the deposit/withdrawal fees based on a banking service. Instead, check out our selection of the related options.
Payment Option
Logo
Deposit Fee
Withdrawal Fee
PerfectMoney
Free in USD
7% in USD
AdvCash
3% in RUR/
Free in USD
3% in RUR
/4% in USD
Capitalist
Free in USD/RUR
4% Fee in RUR
Types of Bonus Program
Up the next is Bonus Policy which is based on 3 levels rating your account as Silver, then Golden up to Platinum. Starting from 10,000 bonuses/1 BTC volume 5 ROM sell orders at the 0.5 BTC price per thirty days (30), you can add another 10,000 bonuses, double the amount of the ROM sell orders on the next two steps accordingly. Well, the price grows twice proportionally.
Other Platform's Services
Alright, let me set the benefits straight till you haven't left reading the YoBit review. Still, there are points on which we're not clear. These are the affiliate program, ICO offering four days of the holding period for replenishment and a 0% up to 100% buy wall.
Then again, you can add your coin, a new one after filling the form out. However, your plans may go awry if nobody including the exchange likes your variant of title, features, price, etc. So, a lot of thought should go into the job.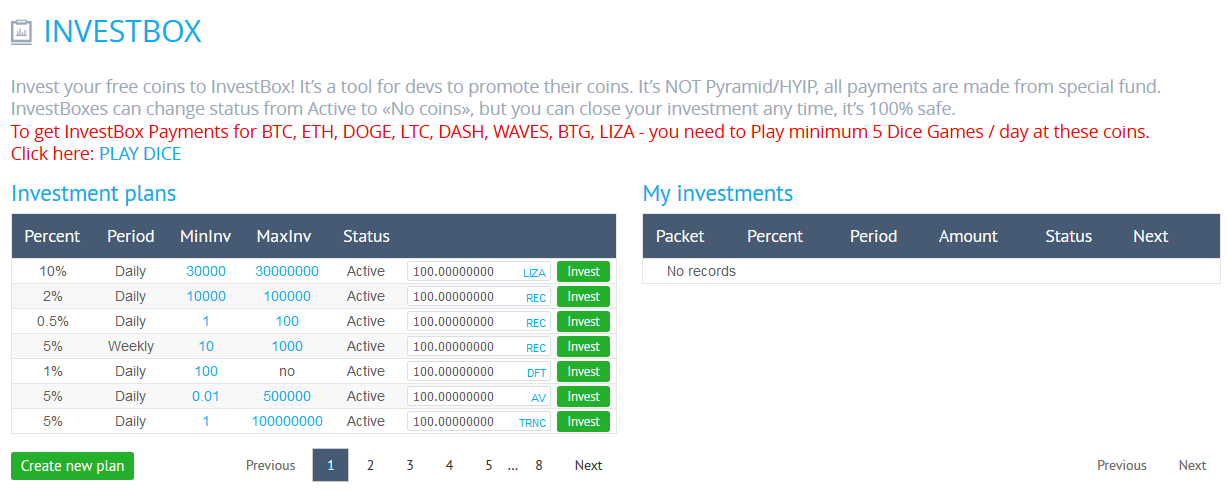 Well, we were hoping there would be an InvestBox. The tool is meant for a dev, who can promote his or her coin by this way. There are 2 statuses: Active/No Coins. Play 5 (five) Dice Games at the very least to receive ETH, BTC, DOGE, DASH, LTC, BTG, LIZA, WAVES payments from this InvestBox.
Clients Support & Security
The most interesting data on safety measures were about anti-virus protection of your computer, home router configuration.
On the part of Yobit security, it's 100% backed up by the attack-proof file and transaction encryption crypto-algorithms, and straighten by the SSL, the Anti-DDOS, the analysis/blocking system, the 2-factor authorization, hot/cold wallets. They don't exploit your info or give it to the 3rd parties, because they aren't armed with such an information at all.
Conclusion
It's harder if you don't see the cooperation with the YoBit exchange fitting you, but we really-really like their service, mainly because of the low fees, the stable work throughout 2015-2017 years, feeling of safety, and many more. What do you think about the YoBit exchange?